"You must have long-range goals to keep you from being frustrated by short-range failures." — Charles Noble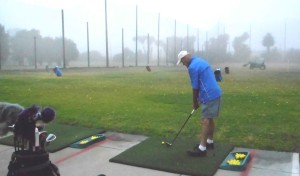 When I left the house this morning, it was pretty foggy. I wasn't sure if we'd be able to see our balls at the start of the tournament. Once I got to Saticoy, it wasn't all that bad. In the above photo, Fred Rudy hits a few practice balls on the driving range into what is left of the fog.
The top golfer of today's tournament was Frank Allison with the best gross score of 75 and the best net score of 60. Way to go Frank (but don't even think about playing that good in the Club championship next month or we'll have to rough you up, maybe break some of your clubs too).
Regards,
Robert Escobedo