"I'm a golfaholic, no question about that. Counseling won't help me. They'd have to put me in prison, and then I'd talk the warden into building a hole or two and teach him how to play." — Lee Tervino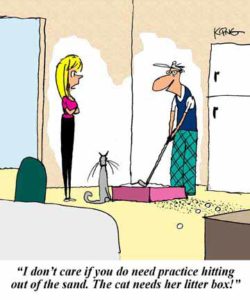 Don't forget about the club barbecue taking place tomorrow at the Mountain View Golf Course. Happy hour and the live music start at 5PM with dinner starting at 6PM. It should be a beautiful afternoon and evening. If you haven't signed up already, come on out and pay at the door. Also, if you have a piece of golf equipment, or a golf-related item that you no longer want collecting dust in your home, you can donate it for inclusion in our raffle. If it's a nice warm day, I'm going to try to set up the music equipment outside in the patio so as to keep the noise level down inside. Hope to see you all there with your golf "fish" stories.
The top gross-score golfers of today's tournament were Frank Allison and myself. We both had an 81. I was doubly lucky today in that I had the best net score of 58. I've been steadily improving since I purchased a new set of "fitted" clubs from The Bunker golf store. Plus I bought a laser finder too.
Regards,
Robert Escobedo