"There is no such thing as natural touch. Touch is something you create by hitting millions of golf balls."— Lee Trevino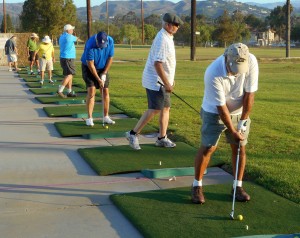 Today's golf day was extremely hot and the humidity was a bit higher than normal. But we survived. In the above photo, members warm up on the driving range prior to the start of today's tournament.
The top golfers for this week's tournament were Ron laufer and Benito Tapia who tied for the best gross score with an 83. David Soriano and Daryl Holder tied for the best net score with a 63. Way to go guys.