Holy moly! Murray Cooper got a HOLE-IN-ONE on #15. Better keep on eye on this guy. He might be a retired PGA pro and didn't tell us.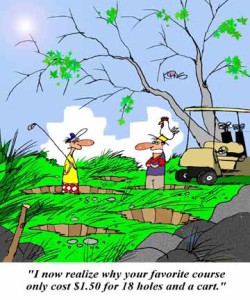 The world's worst golfer hit his ball into a monstrous bunker. This thing was a pit.
"What club should I use now?" he wailed to his caddie.
"What club you use isn't important," answered the young man.
"Just make sure you take along plenty of food and water." — Steve Keuchel
Besides Murray with his hole-in-one, the top golfers of this week's tournament were Jack Fenelon and Ron Carpenter who tied for the best gross score with an 86. I had the best net score with a 66. Congratulations to all.
Regards,
Robert Escobedo